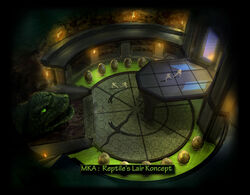 Originally featured as a boss in Mortal Kombat: Shaolin Monks, the Giant Serpent was used by the Saurian known as Reptile as a weapon within his lair. Reptile refers to the creature as his pet. It was eventually defeated by Liu Kang and Kung Lao.
The creature later reappeared in Mortal Kombat: Armageddon, but only as a statue located in the background of Reptile's Lair. According to unlockable concept art available in the game's Krypt, the Giant Serpent was once intended to be alive in the arena[1], featured as a death trap that would eat any players who were knocked into its mouth. However, the artwork's description states, "the great serpent died before the game was finished and a statue was built in it's (sic) honor."[2] The many giant eggs surrounding the arena are described as being Giant Serpent eggs.[3]
References
Community content is available under
CC-BY-SA
unless otherwise noted.