Fire Emblem Warriors: Three Hopes - The Loop
Play Sound
A flamethrower is a mechanical incendiary device designed to project a controllable stream of fire. Most military flamethrowers use liquid fuel, typically either gasoline or diesel, but commercial flamethrowers are generally gas torches using fuels such as propane; gases are safer in peacetime applications because their flames dissipate faster and often are easier to extinguish when necessary.
In Mortal Kombat
The Cyber Lin Kuei ninja Sektor uses a cybernetic version of the Flamethrower as a Fatality in Mortal Kombat 3, Ultimate Mortal Kombat 3, Mortal Kombat Trilogy and Mortal Kombat Gold and as a special move in other games. The Flamethrower is mounted on Sektor's arm, unlike No Face's Flamethrower. In Mortal Kombat (2011), Sektor continues to use a wrist mounted flamethrower which is used by him in both his human and cyborg forms. In his human form, fuel tanks are fitted on his back in order to give the weapon its fuel, however the tanks on his back are absent in his cyborg form.
Sektor uses the flamethrower again in Mortal Kombat 11 in his non-playable appearance in the Story Mode during gameplay and during a cutscene in Sub-Zero and Scorpion's shared Chapter, attempting to torch either Sub-Zero or Scorpion depending on whom the player chooses when fighting Sektor. During the cutscene, the flamethrower is completely useless against Hanzo due to his proficiency with Hellfire, while Kuai Liang responds with a powerful ice blast.
DC Universe villain Lex Luthor also uses what appears to be an arm-mounted Flamethrower attached to his Warsuit in the Mortal Kombat vs DC Universe.
In Mortal Kombat X, Triborg also uses a flamethrower when shapeshifting into Sektor in his LK-9T9 variation. The flamethrower can also be used to perform a Secret Brutality similar to Sektor's Flamethrower Fatality.
In Mortal Kombat 11, RoboCop makes use of an arm-mounted flamethrower as a part of his moveset, referencing one of the functions of his Gunarm from RoboCop 3.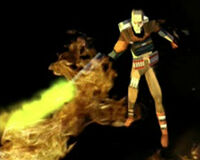 A hand-held version of the incendiary weapon is used by the Black Dragon member No Face in Mortal Kombat: Special Forces. With the weapon's fuel canisters strapped onto his back.