Fire Emblem Warriors: Three Hopes - The Loop
Play Sound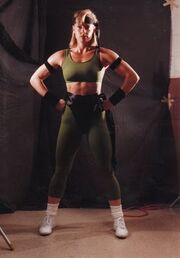 Elizabeth Malecki (born February 14, 1974 in London, England, UK) is a professional dancer, actress, and aerobics instructor, who is best known for her portrayal of Sonya Blade in the original Mortal Kombat arcade game.
Like many of the MK actors at the time, she was employed at Lakeshore Athletic Club in northern Chicago when Midway came calling in 1992 in search of martial artists willing to shoot digitized footage of the game's characters. Following fans' requests for a female character during early beta testing of MK, she was brought on board by Midway to play Sonya, who was a last-minute addition to the game.
After the success of MK, Malecki felt that she deserved a share of the profits after her uncredited likeness was also used in one of the backgrounds in Mortal Kombat II. In 1997, she filed a lawsuit together with fellow MK actors Phillip Ahn and Katalin Zamiar. The lawsuit was ruled in favor of Midway, stating that in Illinois, a claim for quantum meruit cannot succeed where there is a valid, enforceable agreement between the parties.
Malecki was replaced by Kerri Hoskins as Sonya in Mortal Kombat 3. She has maintained a relatively low profile since then, however she appears at Mortal Kombat conventions for fan meet-and-greets as well as fan Q&A meetings with several other actors from the original MK games.
According to IMDB, she appeared as an uncredited female trooper in Mortal Kombat X.