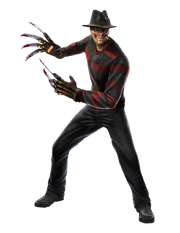 The
Dreamrealm
(also spelled as the
Dream Realm
) is a mysterious
realm
only existing within the deep subconscious of
Earthrealmers
and perhaps others, and is where the wraith
Freddy Krueger
resides.
It reappears in Tremor's ending in Mortal Kombat X. Kano had sent him and other Black Dragon members there to retrieve a psych-bomb; exposure to the realm's ethereal power increases his strength and expands his mind, transforming him into a powerful demi-god. Tremor also mentions the Dreamrealm during his interactions with other characters in MKX, commenting on how he was "reborn" there.
Community content is available under
CC-BY-SA
unless otherwise noted.