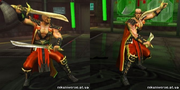 The Drakeswords were swords forged for the demi-god brothers Taven and Daegon to use on their quest to save the Realms and were kept in the Temple of Argus for them to be retrieved. Daegon, having woken up much earlier than Taven, had taken both of the weapons for himself and used them to kill his own parents. He continues to use them as his main weapons of choice as he leads his Red Dragon Clan.
Daegon uses both blades as his weapon style in Mortal Kombat: Armageddon.
In Armageddon's Konquest mode, after Taven defeats his brother in kombat. Taven recovers his original Drakesword from Daegon before having to fight Blaze.
Trivia
Despite recovering his original Drakesword from Daegon, having Taven switch to his weapon style upon fighting Blaze. Will still have him use the same Drakesword he's been using for most of the game. Being the two-handed double-edged greatsword instead of the sword Daegon used.