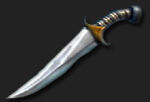 Dragon Teeth are two daggers that Kira wields in both Mortal Kombat: Deception and Mortal Kombat: Armageddon. They were later featured as another collectible Relic under the name Kira's Knifes within the Konquest mode of Mortal Kombat: Armageddon as well.
Kira uses this particular weapon to sneak up on her enemies and promptly slit their throat to avoid detection. Still, many of Kira's enemies have met their untimely fate to this knife.
Interestingly, the knives look different in the Konquest mode of Armageddon than in-game and in her renders. Specifically, the knives' cutting edges are smooth in Konquest mode, whereas they are serated in-game and in her renders.
Trivia