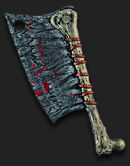 Cleaver is a weapon found in the Slaughterhouse stage in Deception. It is also one of the weapons that a player can give to his/her kreated character in Armageddon. It is also Meat's weapon in Mortal Kombat: Armageddon.
Design
This bloody, ghastly-looking weapon called Meat's Cleaver (Meat Cleaver) was fashioned from the thigh bone of another one of the sorcerer Shang Tsung's failed experiments in his secret flesh pits.
Trivia
Uniquely, both renditions appear to be bloodied.