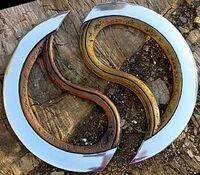 The Chakram is a circular edged weapon originating in India. It is primarily used for throwing, but it can be also used for hand-to-hand fighting. They ranged in size from as small as a bracelet to as large as a shield. The Chakram could be thrown horizontally, vertically, tossed from a stack like cards, or spun overhead with the finger. When worn on the wrist, they could be used in close quarters both offensively or defensively without having to take them off.
In Mortal Kombat
In the series, Kung Lao's hat is used similiarly to a Chakram.
In Mortal Kombat X, the archer Kung Jin is able to use a glowing Chakram, both as a melee weapon and as a thrown projectile in his Shaolin variation. Quite similar to how his uncle Kung Lao uses his Razor-Rimmed hat. Other Chakram are also present in the Split Personality and Wind and Fire Wheel White Lotus Faction Kills.
In Mortal Kombat 11, one of Kollector's abilities has his bolas projectile be replaced with a chakram.