Roblox: DeepWoken - The Loop
Play Sound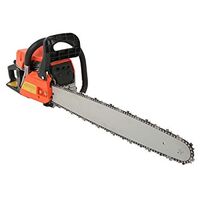 A Chainsaw is a sharp and powerful motorized tool. The user pulls a cord to turn it on and activate the cutting chain. Unlike other tools, a chainsaw is powered by gasoline, although some are battery-powered. Chainsaws are primarily used to cut down trees. In horror fiction, serial killers sometimes use chainsaws to murder their victims. Mortal Kombat guest character Leatherface is a very well known user of the Chainsaw.
In Mortal Kombat
Leatherface uses the Chainsaw in his moveset and in all of his variations in Mortal Kombat X. Despite the Chainsaw typically being a very heavy tool, Leatherface has no issue swinging his around with one or both hands to slice and chop up his opponents. Leatherface also has enough strength to effortlessly toss his Chainsaw across the screen as a projectile, in his Pretty Lady variation.
The weapon reappears in Mortal Kombat 11 in the Black Dragon Fight Club as a stage interaction Krushing Blow as well as a stage Brutality.