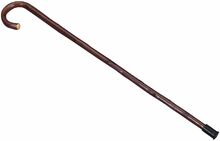 A walking cane is a device used primarily to aid walking, provide postural stability or support, or assist in maintaining a good posture, but some designs also serve as a fashion accessory, or are used for self-defense. There are a few martial arts such as the Korean Hapkido, the British Bartitsu, and the French Savate & Canne, that utilize the walking cane as a potentially deadly weapon.
In Mortal Kombat
In Mortal Kombat vs. DC Universe, the Joker wields a cane for cosmetic purposes but never uses one during gameplay.
In Mortal Kombat X, Bo' Rai Cho utilizes a collapsible cane in his Bartitsu Variation, gaining new special attacks and combos utilizing the cane. He also gains the legendary Flying Kick that he taught Liu Kang, using his cane to propel himself at the opponent.
The Joker utilizes a cane as his primary weapon in his guest appearance in Mortal Kombat 11, with a majority of his attacks, combos, specials and his Fatal Blow incorporating his cane. The cane is customizable in the game's Kustomization, it being his one of his three gear items. It is spelled as Kane in the Kustomization.
Trivia
Some of the gear options for Joker's Kanes being crowbars is a reference to the Death in The Family, in which Joker beats Jason Todd to near death with the use of a crowbar.

This is also referenced in his Fatal Blow as well as the special move Birdboy Beatdown.

When previewing Joker's cane in the Kustomization, an ad will appear at the bottom right of the screen, the ad contains a reference to the 1989 Batman movie.
See Also