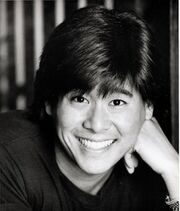 Brian Keith Tochihara (born May 2, 1963 in Los Angeles, California), better known as
Brian Tochi
, is a U.S. actor, screen-writer, movie director and producer. He was widely recognized as the most popular East Asian child actor working in U.S. television during the late 1960s through much of the 1970s having appeared in various T.V. series and nearly a hundred televisual advertisements.
He voices Liu Kang in Mortal Kombat: Defenders of the Realm. Other known roles of his are Takashi in the Revenge of the Nerds film series, Leonardo (voice only) in the first three Teenage Mutant Ninja Turtles live-action films, and Shiv in the Static Shock animated series.
Community content is available under
CC-BY-SA
unless otherwise noted.