Fire Emblem Warriors: Three Hopes - The Loop
Play Sound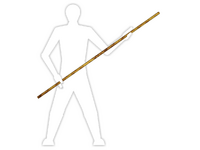 A bō (棒: ぼう) or kon, is a Japanese long staff used in Japanese martial arts, in particular bōjutsu.
In Mortal Kombat
Jade uses Bojutsu as her weapon style in Mortal Kombat: Deception and Mortal Kombat: Armageddon. She also uses a bō as a weapon in Ultimate Mortal Kombat 3 and Mortal Kombat Trilogy. In Mortal Kombat (2011), Jade's Bo is similar to the one she used in Ultimate Mortal Kombat 3 and Trilogy. Jade's Bo staff also appears to be able to either shrink or be collapsible to easier conceal or carry. She continues to use it in Mortal Kombat 11 where it is her primary weapon. It is also customizable through the game's Kustomization.
Khameleon also uses the bō in Mortal Kombat Trilogy.
Princess Kitana uses Bojutsu in her Mournful variation in Mortal Kombat X, using Jade's Bo and Razor-Rang.
Jade also uses Bojutsu in her appearance in Mortal Kombat Mobile. Her staff is also her exclusive Equipment Card.
In Mortal Kombat X, Kung Jin has a custom archery bow that also doubles as a bo staff. Bojutsu is also one of Kung Jin's character variations focusing primarily on the Bo and gaining new attacks specifically using it. Additionally, the Dragon's Head on the top of the Bo glows and can shoot fireballs.
Gallery
Jade
Kung Jin
References
See also