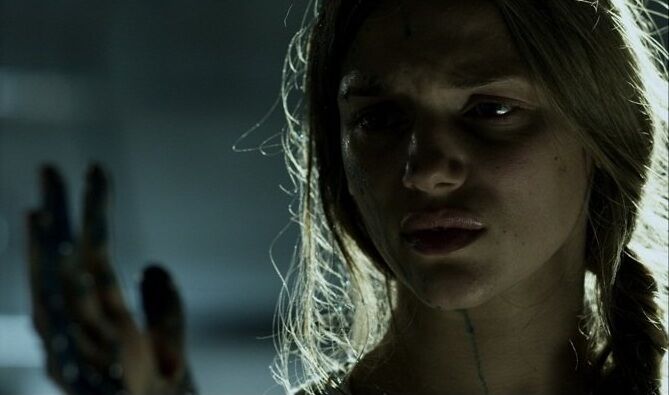 Blue is a character that appears only in Mortal Kombat: Legacy. She is played by Tracy Spiridakos, and made her appearance in Mortal Kombat: Legacy's sixth episode.
She's an inmate of a mental institute, and she's the one who finds Raiden in the courtyard, immediately after he's arrived on Earth, claiming him as hers to the security guards. Having seen his arrival, she's the only one who believes he's indeed the Thunder God. Blue doesn't see Raiden again until after he's lobotomized several months later and taken to the recreation room with the other patients.
In here, Blue speaks to Raiden, who has already healed from his brain's wounds, and agrees to help him escape the asylum. When Raiden knocks out three of the guards, Blue takes the keys to the institute from one of them, and later uses the keys to reach Raiden in the hospital room, where he's been lobotomized once again. Following the God's instructions, she uses one of the surgeon's instruments to stab him, thus allowing him to incarnate himself once more, in another, safer place. When she stabs him, the actual physical form of Raiden explodes, bathing her with his blue blood.
It appears that Blue cuts her wrists, but seems to be "healing" from her problem, considering she tells Raiden she is making progress on her condition.
Gallery