No Man's Sky Update - The Loop
Play Sound
Black Dragon Sword should not to be confused with Dragon Sword.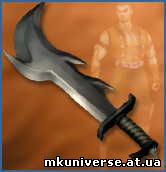 The Black Dragon Sword is a weapon used by Jarek in Mortal Kombat 4 and Mortal Kombat Gold.
The Black Dragon Sword as its name states, is a sword that belongs to the crime syndicate known as the Black Dragon. The sword bears a resemblance to either a falchion or a scimitar with it's blade being very single-edged, large, and has spikes/serrations on the blade that resemble the ridges on the back of the dragon on the Mortal Kombat Logo. 
The sword makes a return in MK Mobile as an Uncommon tier Equipment Card as well as being a Black Dragon Tower exclusive. 
Appearances
Non-canon
Trivia
It can be presumed that this was said weapon Jarek used to break his fall when he was dropped into a ravine by Jax. As mentioned in Jarek's Armageddon Bio Kard.