Not to be confused with Dragon Sword.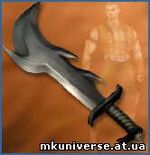 The
Black Dragon Sword
is a weapon used by
Jarek
in
Mortal Kombat 4
and
Mortal Kombat Gold
.
The Black Dragon Sword as it's name states, is a sword that belongs to Jarek's group, the crime syndicate known as the Black Dragon clan. The sword bears a resemblance to either a falchion or a scimitar with it's blade being very large, and has spikes/serrations on the blade that resemble the ridges on the back of the dragon on the Mortal Kombat Logo. 
The weapon was replaced with the Kick Axe in Armageddon. 
Appearances
Trivia
It can be presumed that this was said weapon Jarek used to break his fall when he was dropped into a ravine by Jax. As mentioned in Jarek's Armageddon Bio Kard.
Community content is available under
CC-BY-SA
unless otherwise noted.