Fire Emblem Warriors: Three Hopes - The Loop
Play Sound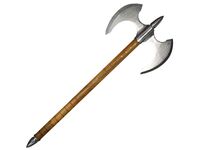 A Battle Axe (also spelled as battle-axe, battle ax, or battle-ax) is an axe specifically designed for combat. Battle axes were specialized versions of utility axes. Many were suitable for use in one hand, while others were larger and were deployed two-handed.
In its most common form, it is an arm-length weapon held in one or both hands. Compared to a sword swing, it delivers more cleaving power against a smaller target area, making it more effective against armor, due to concentrating more of its weight in the axehead. However, it allows much less precision than a sword does.
In Mortal Kombat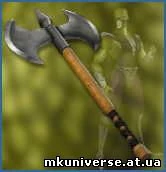 The Battle Axe in the Mortal Kombat series appears to be double-bitted/bladed. The weapon is used by the Raptor Reptile in Mortal Kombat 4, as well as the Shaolin Monk Kung Lao in Mortal Kombat Gold, with the designs of their axes being quite different from each other, though they function the same way.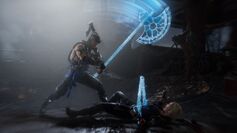 In Mortal Kombat 11, Sub-Zero utilizes two small Ice Battle Axes during gameplay, being his signature weapon for the game. Due to this, they can be customized through the game's Gear System. He forms the axes through his cryomancy and even forms a large pollaxe used in his Fatal Blow and Fatality called Ice-Cutioner. Guest character Spawn also utilizes a small battle axe called the Agony Axe in addition to his arsenal of weapons. The axe is the same one he used in his guest appearance in Soul Calibur II and in the his own game Spawn: Armageddon, respectively.
Scorpion is uses a Battle Axe as a kitchen utensil in the humorous Cooking with Scorpion commercial found in MK: Deadly Alliance's Krypt. He makes use of it in chopping various meats and a watermelon, with the last chop having the axe break.
See Also