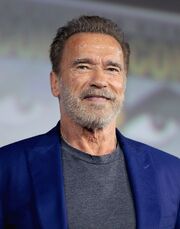 Arnold Alois Schwarzenegger (born July 30, 1947) is a Austrian-American actor, politician and former professional bodybuilder who serves as the facial model for The Terminator in Mortal Kombat 11, and is the one who handpicked Chris Cox to provide the voice for The Terminator instead of voicing the character himself.
Arnold began lifting weights at the age of 15. He won the Mr. Universe title at age 20 and went on to win the Mr. Olympia contest seven times, remaining a prominent presence in bodybuilding and writing many books and articles on the sport. The Arnold Sports Festival, considered the second most important professional bodybuilding event in recent years, is named after him. He is widely considered to be one of the greatest bodybuilders of all time, as well as the sport's most charismatic ambassador.
Arnold was married to Maria Shiver, a niece of president John F. Kennedy from 1986 to 2011, after he admitted to having fathered a child with another woman.
Gallery
External Links
Community content is available under
CC-BY-SA
unless otherwise noted.