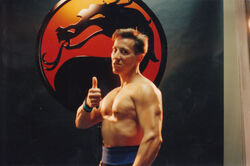 Daniel Pesina
(born December 1st, 1958 in
Chicago, Illinois, USA
) played
Johnny Cage
in
Mortal Kombat
and
Mortal Kombat II
, and also portrayed the ninja characters
Reptile
,
Scorpion
, and
Sub-Zero
in the 1st and 2nd games as well (also including the secret ninja characters
Noob Saibot
and
Smoke
in
MKII
). Pesina left Midway in 1994 due to an issue regarding "royalty checks".
Overview
After his departure from Midway, further ventures into other fighting games proved unsuccessful. After the failure of BloodStorm, he and his brother Carlos (Raiden in the 2D Mortal Kombat games) assisted Data East with its digitized fighting game, Tattoo Assassins, which, despite an extensive feature in a summer '94 issue of EGM, never made it to arcades. In 1995, he and fellow MK actors Ho Sung Pak, Katalin Zamiar, and Dr. Phillip Ahn, M.D. all appeared in a fighting game produced exclusively for the Atari Jaguar titled Thea Realm Fighters, but it was never released after Atari ceased production on the failed system later that year.
Pesina appeared as one of Shredder's foot soldiers in the 1991 movie Teenage Mutant Ninja Turtles II: The Secret of the Ooze. In the 2003 martial arts movie The Book of Swords, which also starred fellow MK actors Zamiar, Pak and Richard Divizio, he played a hitman whose task was to take out the movie's leading man.
Daniel and Carlos also appeared in a videogame-based comedy film entitled Press Start, which was released to DVD on September 25, 2007. Daniel's character is called Sasori, which is Japanese for Scorpion.
As of 2004, Daniel Pesina is a teacher at the Chicago Wushuguan School, while Carlos is working with Warner Bros.
Gallery
Community content is available under
CC-BY-SA
unless otherwise noted.